Today's insights are brought to you by my colleague and global futurist, Keith Coats.
I remember hearing the following story at a leadership conference during which we were invited to 'tell a story.'
A mother went shopping with her daughter who was about four or five years old at the time. There was a blind man with a white cane in the shop. In a piping voice, the little girl asked why the man had a white stick.
'The man can't see,' said the mom. 'He's blind.'
'Does that mean he can't see anything?' said the daughter in the same penetrate-through-walls voice.
'Yes dear,' her mother replied, 'but keep your voice down.'
By this time the blind man himself decided to answer the child. Bending down to her level, he told her that he had never been able to see because he had been born blind. Undeterred, the little girl asked somewhat incredulously if that meant that he had never seen any colours.
'Yes,' the man responded. By this time, much to the mom's embarrassment, a fair crowd had gathered around to listen to the enchanting conversation taking place.
And then it happened. The bright little person asked if he would like her to explain to him what colours were like.
'Yes please,' said the willing student with a patient smile on his face.
'Well,' began the little girl, 'have you ever been inside where it is nice and cool and then walked outside and felt the sun shining on you, warming your cheeks and face and then slowly warming your whole body?'
'Yes, I have,' answered the blind man.
'Well, that is what yellow is,' said the little teacher.
'Have you ever been to the beach without shoes and had to dance on the sand because it was so hot?'
'Yes, I have done that,' chuckled the student, clearly enjoying the conversation.
'Well, that is what bright red is like.'
Then came the last question. 'Have you run into the sea and felt the cold water on your burning feet?'
'Why yes, of course,' said the blind man.
'Well, then, you know what brilliant blue is like.'
And so it was that a child unravelled the mystery of colour to an unseeing but willing student by some way her senior.
The best leaders are those who are willing to learn from unlikely sources.
The tragedy of leadership is that all too often it carries with it the expectation that all learning has already taken place, and all expertise is already locked in.
The result? Little or no room for questions, explorations and discoveries.
Life is much more interesting if it is an ongoing quest for knowledge, if we remain curious rather than certain.
Who will help you to see the colours?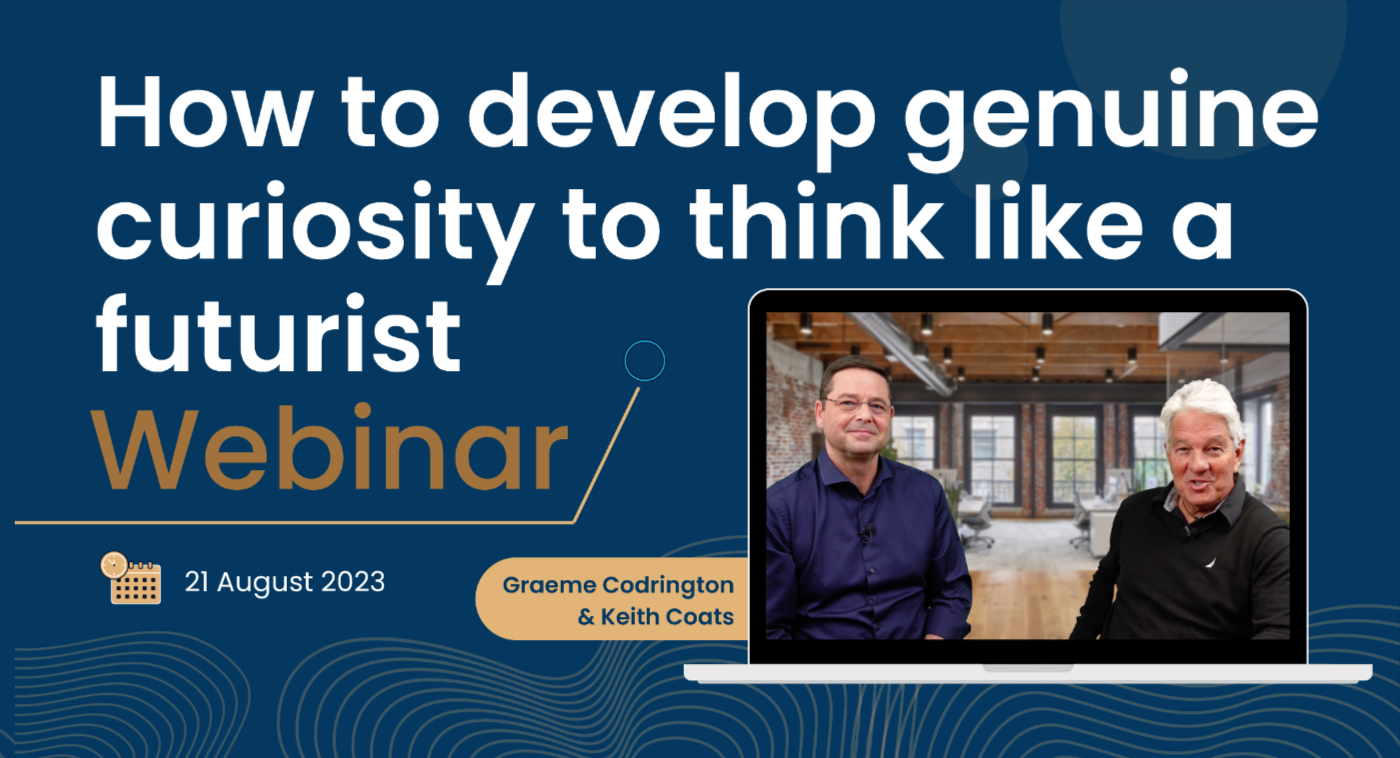 Join Keith and Graeme at our upcoming webinar on the 21st August.
⭐️ Thinking Like a Futurist – How to Develop Genuine Curiosity ⭐️
as together they help leaders discover 3 essential pillars to become future-focused.
Understanding the significance of genuine curiosity,
Mastering the toolkit for leaders that sparks new insights, and
Leveraging storytelling in curiosity conversations.
One of the truly essential characteristics of a future focused leader is curiosity. A leader who is genuinely interested in how the world works, in learning and developing.
In this webinar, Keith and Graeme discuss what that entails, and why it's vitally important, together with the tools that you can use in order to develop your curiosity.
Curiosity – an essential tool for your leadership toolkit to help you and your organisation unleash your true potential.
This webinar is part of Graeme Codrington's Future Club and is available to all Silver members as part of the monthly membership content. (You can join the club here).
You can also sign up in a one-time payment to attend the webinar (and access the replay) for $57 if you wish.
Here is what we'll cover in the live webinar:
✔️ Understanding the significance of genuine curiosity.
✔️ Mastering the toolkit for leaders that sparks new insights.
✔️ How to leverage storytelling in curiosity conversations.
✔️ How to use curiosity as a skill for innovation, and to change the way you see the world.
The live webinar will take place on 21 August 2023 at:
🕑️ 2pm Johannesburg
🕐️ 1pm London
🕗️ 8am New York
(The recording will be available for those who can't attend the live call.)
About the author of today's Tuesday Tip – Keith Coats
Keith Coats is a founding partner of TomorrowToday Global and leadership specialist. He is now based in Cape Town, South Africa having relocated from London towards the end of 2021. Keith works with blue chips companies and in multiple business school leadership programmes worldwide helping senior leaders prepare today for the challenges and threats of tomorrow…and sometimes, the 'day after tomorrow'.
Recently Keith's travel has included working throughout the UK, the USA, Saudi Arabia, Dubai, Abu Dhabi, Germany, Switzerland, Singapore, and of course, South Africa.