Get More Productivity, More Innovation, More Meaningfulness and More Competitiveness
We are living in a New Age of Discovery where exponential advances in technology are fast enabling the impossible to become possible. Successful companies and individuals will be those that are bold enough to think big, challenge conventional thinking, fail fast and implement innovations that do remarkable things.
We can look back at history for inspiration because ever since the dawning of civilisation leaders on quests have achieved remarkable things. From the building of the great pyramids, circumnavigate the globe, to going to the moon; brave leaders have ventured forth into the unknown, challenged the impossible and endured trials and tribulations. Those that proved to be the most adaptive and resilient returned successful with new knowledge and rewards.
Quests are part of every culture, they inspire and capture our imagination. We feel compelled to join and contribute to meaningful quests. They have a magnetism that is compelling. Quests have proven to be incredible drivers of change and progress, propelling civilisation forward to higher and higher levels. But why, what is so special about a quest?
This question intrigued and puzzled the team at TomorrowToday so we set out on our own mini-quest to research extensively what leaders on quests do and we've decoded their secret. We now know what makes quests such potent leadership force and it's probably the simplest and most powerful leadership framework ever. We call it the three qualities of a quest or simply the 3Qs:
Quality 1: People on quests challenge the impossible – They constantly try to take things to the next level.
Quality 2: People on quests strive to deliver meaningful benefits – They are passionate about making the world they touch better
Quality 3: People on quests have a clear, inspirational and outcome focused destination.
Perhaps, the greatest feature of a quest is that they are immensely scalable. You can have a personal quest; a team quest or an organisational quest. This is important because studies show upwards of 70% of people want to be part of something meaningful. Quests also do not replace your current vision, mission, purpose or strategies, but they will bring staid ones to life and motivate people to achieving them..
What the Achieving Remarkable Things presentation and workshop will ultimately show you though is that it's not about the quest but rather about the 3Qs. Because when you try to make better; deliver meaningfulness and have a clear destination; then you will achieve remarkable things.
Book us and we will share a motivational and practical framework that will change your life and the world we live in.
Achieve Remarkable Things, is an exceptional keynote or workshop for any company conference or strategy away-day. Discover what a vanguard of successful quester-leaders like Elon Musk, Leila Janah, Sergey Brin, Sebastian Thrun, Paul Polman, Brian Chesky and a growing band of Millennial trailblazers like Boyan Slat already know.
Achieving Remarkable Things is for leaders and organisations who want to:
Achieve more productivity and growth
Improve and embed a culture of innovation
Develop and implement strategies that are purpose driven
Attract and retain the best talent
Empower employees and build customer loyalty
Make a meaningful difference in the world
Become more competitive
Book one of our remarkable speakers and make your next team/strategy away-day or company conference an unforgettable and inspirational experience.
Watch leadership and strategy development expert Dean van Leeuwen presenting at TEDx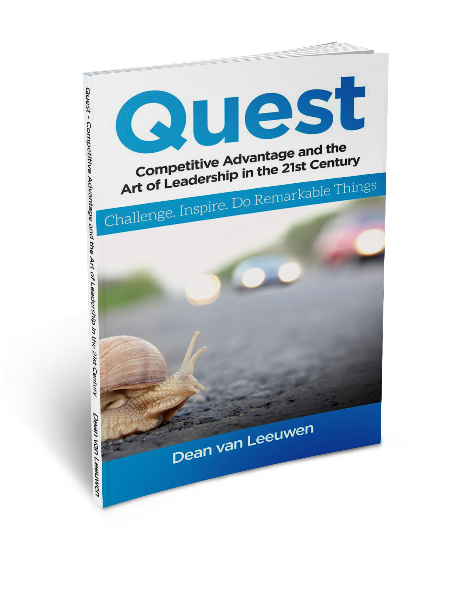 Buy the book: Quest: Competitive Advantage and the Art of Leadership in the 21st Century
Download the free white paper here or read it online here