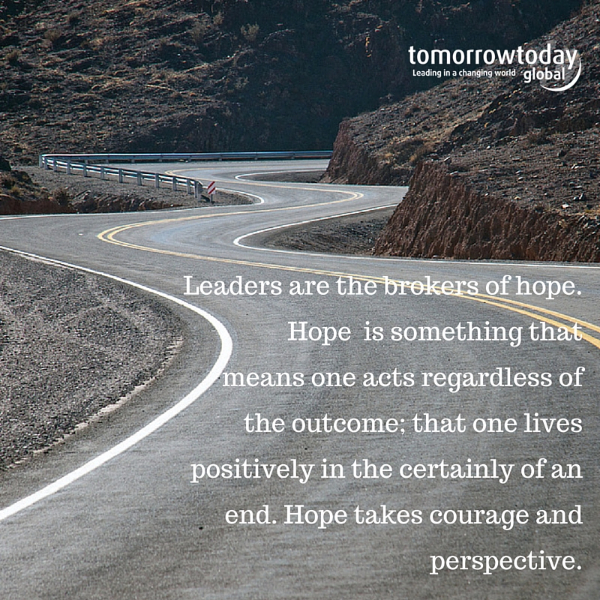 I am going to deviate substantially from my 'usual article format' and rather try to capture something that, as I watched it, moved me deeply. Something that caused me to reflect about life and life's purpose; about the strange and unpredictable nature and pathway that life takes and how 'unfair' this can seem to the travellers.
This is a reflection for everyone but perhaps even more so for those who find themselves in leadership. Leaders by what they say and don't say, by what they do and don't do, influence others both directly and indirectly. They, by how they live life can either inspire hope or generate despair. They can serve as a beacon to others or they can do irreparable harm to those within the sphere of their reach. Leaders' actions, more than others, come under intense scrutiny and this is why leaders need to learn how to pause, to reflect, to think and how to then act when life's journey throws into the mix the unexpected, the rough and the unwelcome detours. How leaders navigate such, matters. It matters a great deal because others are watching.
The programme watched was unintentional as TV channels were being flicked through to find something to fill space and ease the fatigue as a result of a long day and travel. It was titled, 'Back to South Africa' and was a documentary of the great All Black rugby player Jonah Lomu's three-day return visit to South Africa 20 years after that epic World Cup Final in 1995. (For non-rugby supporters the RWC Final was between South Africa and New Zealand where, against all odds, the host nation triumphed 15-12 after a dramatic period of extra time. The much celebrated and acclaimed win is seen as one of the foundational building blocks in the birth of the 'Rainbow Nation'. Lomu, with his size (120kg) and pace, was the feared weapon of the great All Black team and stopping him was key to achieving a win for the Springboks – the SA team. Stop him they did.)
Subsequent to the final it was revealed that Lomu had been suffering from the effects of nephrotic syndrome a serious kidney disease that necessitated a kidney transplant in 2004. Lomu is still required to undergo 6-8 hours of dialysis 4-5 times a week. This huge colossus of a man has been stripped to being a mere mortal, as the condition has reshaped him in all but spirit over the past 20 years. Seeing images of him terrorising his opponents in 1995 and brushing off and ploughing through attempts to tackle him still evoke a tremor and sense of awe even in today's context of professional rugby players and what they bring to the field.
Lomu was filmed revisiting the fields of that 1995 tournament and reconnecting with those he had opposed that day. His slow shuffle and gentle Kiwi accent incongruent with the image of that fearsome predator that I, and I suspect most watching the documentary, remember. He reflected on that time with humility and without a trace of bitterness for what life had served him since that time. He spoke of being so very grateful for the deeper and richer treasures he had found beneath the soil of hardship. In the documentary he reconnected with current Springbok captain, Jean de Villiers, Stefan Terblanche, James Small, the Springbok wing tasked with marking him that day; he had a chance meeting with the 1995 Springbok captain, François Pienaar and he then spent time with the man whose drop-goal won the trophy for South Africa, Joel Stransky. All relived their memories of that great day and shared how that single event had impacted their lives forever.
However, it was his final meeting that was the one that arrested my attention and is the motivation for this article. Before leaving South Africa, Lomu says there is one person he must see. Those familiar with the story immediately know who that 'one person' is…the Springbok scrumhalf, (on the day) Joost van der Westhuizen.
Van der Westhuizen played 89 test matches for his country, scoring 38 tries in the process. He was inducted into the IRB's International Hall of Frame in 2007 and is regarded by many as one of the best players of all time. In 2011, van der Westhuizen announced that he had Amyotrophic Lateral Sclerosis, a form of motor neurone disease (MND) and was given between two to five years to live. The unrelenting progress of the disease has left van der Westhuizen in a wheelchair and severely impacted his speech, reducing this once great athlete to a mere shadow of his former (physical) self. He has been quoted as saying, "I realise every day could be my last. It's been a rollercoaster from day one and I know I'm on a deathbed from now on. I've had my highs and I have had my lows, but no more. I'm a firm believer that there's a bigger purpose in my life and I am very positive, very happy."
Seeing these two athletes reconnect, each marked by their own difficult pathways, was an emotional moment. They recalled the key moment in the game when Lomu having broken clear of the Springbok defence, the try-line at his mercy, was stopped in his tracks by a courageous tackle from van der Westhuizen. A game defining moment and one etched in each of their memories. A moment remembered from a different time with seemingly different people yet here they were, the same two people, yet not.
Both Lomu and van der Westhuizen have made mistakes, big mistakes in their personal relationships all of which attracted, as to be expected, the harsh gaze of the media. Yet these mistakes have not defined them, nor has their sporting records. What has defined them is their ability to deal with adversity and live positively in the shadow that clouds them both. In the face of physical trauma the spirit of both these men prevails. They share a perspective on life that somehow can only be gained from having encountered the deepest valley. For each of them it is an individual battle, an individual battle that is shared. Their rugby memories, unlike in the previous conversations Lomu shared, seemed insignificant. They were merely a starting point, a distant connection point for the two that now has little bearing on the reality of what each man faces. It was a moving moment to witness their acknowledgment of how unpredictable life has been since the glory of their youth.
Leaders are the brokers of hope. Hope is something that means one acts regardless of the outcome; that one lives positively in the certainly of an end. Hope takes courage and perspective. It is not the shutting out of despair but rather the embracing of the reality that attempts to destroy hope in the first place. To live in hope, in such circumstances, is to gift others looking on with a clearer insight to what matters in life. In how these two great sportsmen are living out their lives, their reality is to inspire hope for others.
So read this and perhaps take a moment in your day that is most likely filled with deadlines, numbers and meetings; a day shaped by expectations and a schedule; a day with plans that give the illusion of control and demand your focus; take a moment to reflect on the uncertainly of what it is that awaits around the corner. Take a moment to reflect on the reality that we don't know what tomorrow will bring and how, mindful of that, we ought to live the day that we do have…our today.
The leader's challenge is to lead through uncertainty. As a leader you face the paradox of creating a sense of certainty in a context of uncertainty. When confronted with what Lomu and van der Westhuizen had to face that paradox takes on an entirely new meaning and perspective without ever falling away. Somehow suffering and pain do that and this is often spoken about as a 'gift' by those in the valley, a message and realisation that makes little sense to those on the 'outside' – to those looking on.
How do I end an article like this? I really am not sure. I am not sure why I wrote it in the first place. I just knew I had to write something and hope that somehow, in some way, the words would find meaning for you, the Reader. If it leads to you taking a moment to pause and reflect on life and how you live it then perhaps that is more than I could have hoped for at the outset.
Lomu in the course of the documentary said that, "dreams can happen". Easy to believe in the good times, less so when things aren't going as expected. For both Lomu and van der Westhuizen their dreams did happen. But, perhaps their legacy will not be the fulfilment of their respective dreams and sporting achievements but rather how they lived beyond their dreams, how they lived when faced with adversity.
Dare to dream but know that it is what we do with whatever life serves us that really matters. Carpe diem.